'The colourful and accessible project cards include learning objectives and a learning task that is provocative, practical and perfect for inspiring collaboration, critical thinking and enquiry.
Written design process steps are helpfully integrated, along with engaging graphics to inspire pupils.'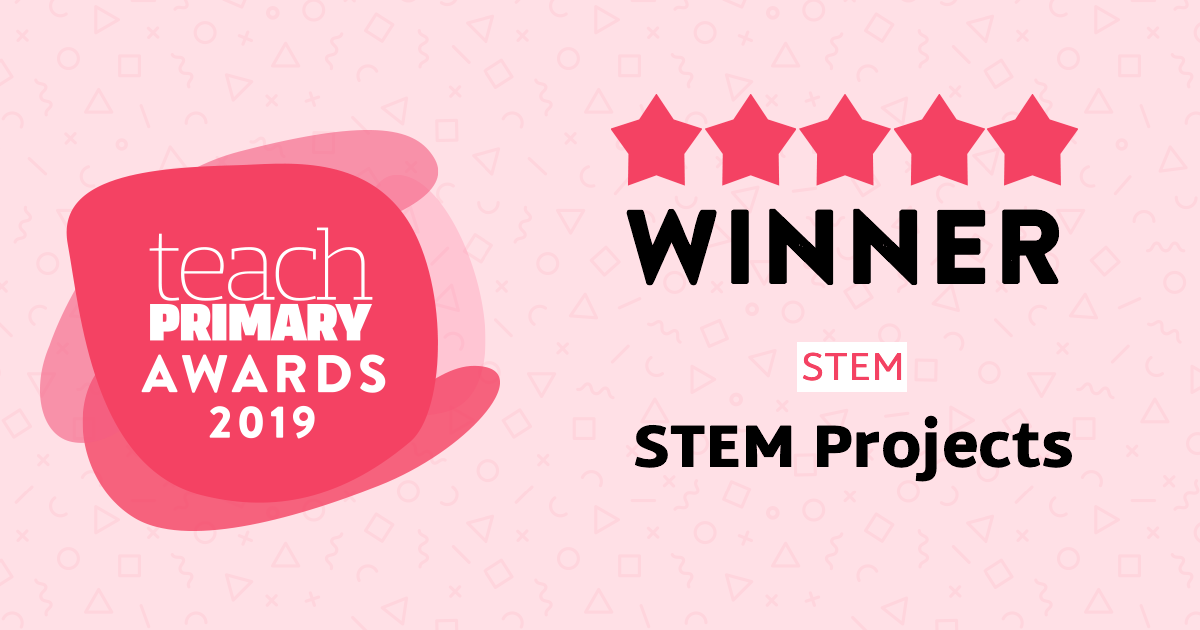 STEM Category Winner
Teach Primary Awards 2019
'This is an exciting resource which spans from EYFS to UKS2. Each box is full of 28 STEM Projects split into biological, chemical, environmental and physical sciences. Key learning intentions are signposted for teachers, so it is clear which elements of the National Curriculum they are covering.' Judge, Teach Primary Awards 2019
The STEM Projects series provides opportunities for pupils to creatively apply skills and knowledge in science; craft, design and engineering; numeracy and mathematics; and digital technology, whilst completing short- or long-term projects.

Each STEM Projects series box contains a set of cards on a range of topics linked to the National Curriculum for Science and the Curriculum for Excellence in Scotland (links below as pdf download), but their variety also allows them to be successfully incorporated into a cross-curricular approach to topic teaching.

Each topic contains key learning objectives and covers contemporary environmental themes such as recycling and horticulture.
The STEM projects series contains:
two introductory cards explaining STEM education, including: time allocations for using the cards; tips for planning, differentiating, assessing and supporting teaching and learning; and classroom and resource management ideas;
one card with icons, explaining each step of the designing and making process, in child-friendly language;
one card explaining each science strand; how the projects can be linked to craft, design and engineering;
numeracy and mathematics; and digital technology; and providing an overview of each project contained within the strand, including the task and specific design and technology strands of learning;
six short-term projects and one long-term project covering living things, energy and forces, materials and earth and the environment; and
six copies of each project to allow for small-group use
download the National Curriculum links here
download the Scotland Curriculum for Excellence links here
STEM Project work at Kilburn Park